自動穩壓器
Automatic Voltage Regulator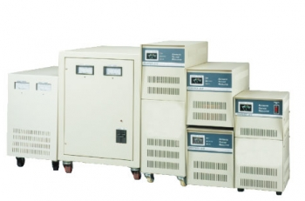 單相 CNC 產業及電腦、儀器設備專用單相伺服電子式,適合各類單相負載及場所,產品規格齊全並有CE認證,輕薄短小,具環保概念機種,內附專利旁路裝置,連續無段穩壓設計,CNC產業及電腦、儀器界最受歡迎機種。
Single Phase Electronic Servo AVR is suitable for all kinds of single phase load and premises. The product lines have complete series and are all CE certified. The products are light, thin and small in size and are environment friendly conceptual models. The products have patented bypass device and continuous stepless voltage regulation design. The products are highly accepted and welcome by CNC industry, computer and instrument industries.
適用範圍
Application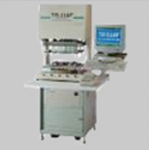 AOI測試機
AOI Test Machine
檢驗儀器
Inspect Instrument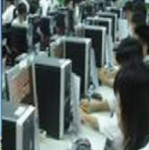 辦公室IT設備
Office IT Equipment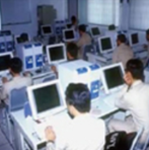 電腦教室
Computer Classroom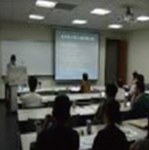 多媒體設備
Multimedia Equipment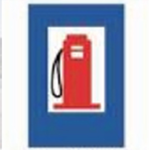 加油站
Gas station
主要零件功能說明
Function Description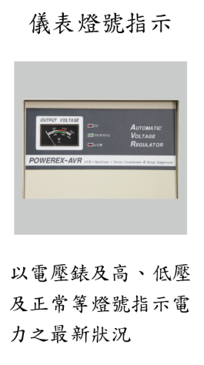 Instrument Lamp Indicating
The latest power conditions are indicated by voltmeter, Hi/Low and normal indicator.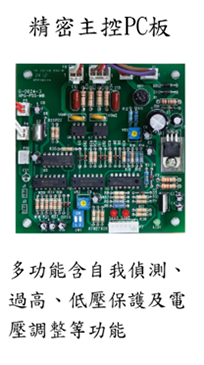 Precision Main Control PCB
With multiple functions, including self-detection, Hi/Low voltage protection and voltage regulation.
With SOVP device
Whether it is on or recover from power outage, the Start Over Voltage Protection will always re-start from low voltage.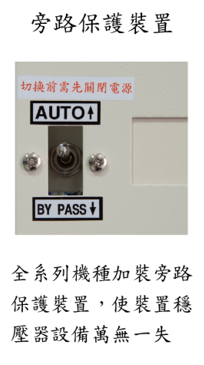 Bypass Protection Device
All models are equipped with by pass protecting device, so as to keep the equipment installed with the AVR free from any damage.