轉矩馬達
Torque Motor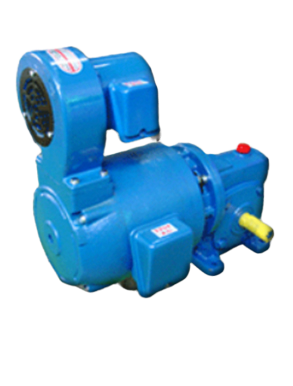 轉矩馬達的設計不同於一般馬達,轉矩馬達具有較大的啟動迴轉扭力,在低轉速及承受拘束負載時,能得到穩定的轉矩及運轉。當負載增加時,馬達的迴轉扭力與電壓成平方比,當負載轉矩為一定值時,變更供給電壓即可改變迴轉速度。 轉矩馬達的特性使其適用於以一定的張力,持續捲取. 捲繞一定速度的物品。當捲取輪軸外徑變大時,具保持拘束狀態用。轉矩馬達被廣泛應用於在需要將產品捲繞在捲筒上的作業,例如: 紡織. 造紙. 橡膠. 塑膠(圓絲. 扁絲. 塑膠袋. 保鮮膜). 金屬線材和電線電纜以及印刷機械等工業領域。
Torque motors are designed to provide high starting stable operation, especially in low speed range or under a locked rotor condition. The torque is highest at zero speed and decreases steadily with increasing speed to keep motor and loading balanced. Motor rotation speed change is available by adjusting supply voltage when loading torque is constant. Torque motor is suitable for continuous winding and winding of articles at a certain speed with a certain tension. It is used commonly in situations where forced static torque is required during or after operation. Torque motors are widely used in applications where the product needs to be wound ontoa reel, such as textiles, paper, rubber, plastic (round wire, flat wire, plastic bags, cling film), metal wire, cable and printing machinery.
---
適用範圍
Application
捲料、攪拌、帶狀、線狀及液狀物體及表面張力。
Coil, agitation, ribbon, wire and liquid objects and surface tension.
布料印花及印染業使用。
It's suitable for Fabric printing and printing and dyeing industry .
負載、輔助啟動、剎車、收放料及補償機使用。
Load, auxiliary start, brake, receiving and distributing material and compensator.